Upcoming Releases
♚.~.~.~.~.~.~.~.~.~.~.~.~.~.~.~.~.~.♚ OtomeHimeProject is currently on hiatus ♚.~.~.~.~.~.~.~.~.~.~.~.~.~.~.~.~.~.♚
Who is online?
In total there is
1
user online :: 0 Registered, 0 Hidden and 1 Guest
None
Most users ever online was
113
on Mon May 08, 2017 11:42 pm
December 2019
| Mon | Tue | Wed | Thu | Fri | Sat | Sun |
| --- | --- | --- | --- | --- | --- | --- |
| | | | | | | 1 |
| 2 | 3 | 4 | 5 | 6 | 7 | 8 |
| 9 | 10 | 11 | 12 | 13 | 14 | 15 |
| 16 | 17 | 18 | 19 | 20 | 21 | 22 |
| 23 | 24 | 25 | 26 | 27 | 28 | 29 |
| 30 | 31 | | | | | |
Calendar

If you were an animal, what animal would you be?

I want to be a bird. Flying would be so much fun!




I would be a cat but not just any cat--a cat with a loving home so I could be lazy all day and snuggle with my owners when they are home but also be able to eat all day long. \o/




A manatee!! They're really cute but besides that, I relate a lot to a manatee. They tend to float along without much care, even though they should be paying attention and keeping an eye out for boat propellers. I feel like that's something I can relate to a little too well.




Maybe a shrew because I'm small, angry and have a big nose lmao.




I'd be a cat, cuz then I could sleep all day and not give a damn about it. And to be that elegant, not to mention flexible, would really be something haha~ But I'd also like to be a tiger! <3 So majestic it's almost ridiculous..




This is funny because I've been called lots animal/pet nicknames IRL such as chicken (no need to ask why lol), owl, cat, bunny and even piggy! Ah, but right now I think I resemble pandas the most ehehe. A sleepyhead, lazy, and totally random panda with dark circles under the eyes yup that's me lol




Maybe a Bunny, 'cause they're cure but at the same time they can be fearless and pretty smart. And sometimes they like to be alone and sometimes they like to be with everyone :3 like me




Even though I'm a dog-person at heart, I would probably be a lazy cat. That's because sleeping and eating are two of my most favorite things to do


One of my friends once told me that I'm like a small raccoon because I have small hands which always grab for food LOL I also worked part-time at a shop that sold wool hats which looked like animal faces and I always had to wear the raccoon one...so I would probably be one of those guys!




Do I really need to state the obvious? Everybody say it with me now! 1.2.3 'Whale!!' ( ´ ▽ ` )ノ




This is easy! I would be a penguin. Have you ever seen a penguin? They are so clumsy they remind me of myself. Plus they make weird noises, also me. Plus they waddle... not me, but I like to do it once in a while? :3 To be precise, I would be an Emperor Penguin or a Magellanic Penguin... I'm still not quite sure about it. So, I'm not that precise at all

Anyways, if I could ever meet a penguin in real life... I would be so happy TwT <3




Maybe a dog!

I'm totally a dog person so I'd be a crazy dog with a lovely family haha




In honor of my nickname, a wolf! Contrary to what you may think, my nickname doesn't come from my favorite animal, it actually comes from my mother's family name! I might love other animals more (I LOVE CATS), but I'm happy being a Wolfy!



A guinea pig! I have a guinea pig and she is really cuuuute! I want to be a cuy because she spends all day eating... and I want to do that. I probably shouldn't say that... but I'm hungry lol




I would be a giraffe!! I'm pretty short so I'd like to know how it feels to be tall for once haha. Plus, they are super cute!!


_________________
Maria | Nanami | Chisaki | Ayano | Rikako | Manaka

Miyako




Posts

: 204


Join date

: 2011-10-18


Age

: 24


Location

: The Netherlands



Ohhh I honestly thought that almost everyone would go for cat right away but I'm surprised at the very varied replies! That's great! *0* I'd love to see chibis of everyone with your animaals ♥
_________________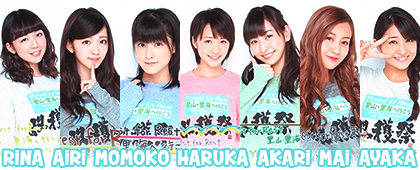 Wolfy




Posts

: 23


Join date

: 2013-09-22


Age

: 27


Location

: Spain



Omg Wolfy that would be adorable ;w;
_________________
Maria | Nanami | Chisaki | Ayano | Rikako | Manaka

Miyako




Posts

: 204


Join date

: 2011-10-18


Age

: 24


Location

: The Netherlands



Ah that's an adorable idea Wolfy *w*
_________________
C-ute • Ayumi • Kiki • Murotan • Sayuki • Moe • Yuka • Rei

Raii




Posts

: 212


Join date

: 2011-11-02


Age

: 23


Location

: Philippines





Similar topics
---
Permissions in this forum:
You
cannot
reply to topics in this forum